D MECATRONICS SIGNS MANUFACTURING CONTRACT WITH JOHNSON CONTROLS INC.
D&R Technology, has been awarded a contract from Johnson Controls (JCI) exceeding $1,200,000 to be delivered over the ensuing six months.
"This demonstrates the success of their full service strategy and the confidence of their customers on the ability of D&R Technology to manufacture and deliver quality products," commented Drasko Karanovic, President and Chairman of D&R Technology.
D Mecatronics President and CEO Berardino Paolucci states, "In a hyper-competitive market place brimming with new choices in both existing and emerging segments, car manufacturers will be chasing customers more aggressively than ever. And they will be doing so with sharp new fuel-efficient, technology-laden vehicles reflecting the new reality of high fuel prices in particular. It is stated that over the next four years, the industry will replace 67 percent of its sales volume. With that D Mecatronics intends to continue to be at the forefront and capitalize on this by offering state-of-the-art technological solutions by combining their experience with intense customer involvement to develop systems and processes that match the latest technology with customer manufacturing needs."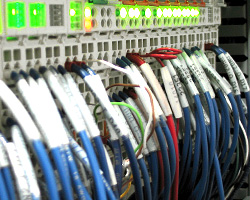 The global automotive manufacturing industry operates in an increasingly aggressive marketplace whose performance is tied directly to performance of the large and growing retail automobile industry. The top six companies in the global manufacturing industry are General Motors (GM), Toyota, Ford, DaimlerChrysler, Volkswagen and Honda, and of those, D Mecatronics Inc. has produced machines which supply parts and components for FIVE of the top six manufacturers in world.
Today, the OEM's are globally producing over 54 million new vehicles per year. Achieving a small percentage of the total market share could translate into over $50 million in annual sales. In the automotive market, D Mecatronics Inc. is a major supplier of production lines which produces integrated seating and interior systems. D Mecatronics Inc.'s automotive solutions are delivering parts for several major automotive brands including Ford, General Motors (GM), Toyota, DaimlerChrysler, Nissan and Honda.
Well-known references
An exceptionally high standard of quality, excellent customer relationships and strong mutual trust are the building blocks of their company. This is a philosophy that their customers also appreciate. For over three decades well known automotive parts suppliers worldwide have been investing in D Mecatronics management team's automation solutions, and in doing so, D Mecatronics has gained a competitive edge.
Forward-looking statements in this release are made pursuant to the "safe harbor" provisions of the Private Securities Litigation Reform Act of 1995. Investors are cautioned that such forward-looking statements involve risks and uncertainties, including without limitation, continued acceptance of the Company's products, increased levels of competition for the Company, new products and technological changes, the Company's dependence on third-party suppliers, and other risks detailed from time to time in the Company's periodic reports filed with the Securities and Exchange Commission.