SOLUTIONS
DMTN designs and manufactures automated assembly line systems.
Their clients include the world's top ten automotive suppliers.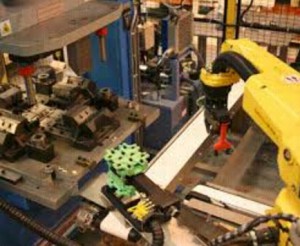 One of those companies was just named one of the 50 best manufacturing companies in the U.S., partly because of their robotic operational efficiencies.
Now Mechatronic Systems Integration (DMTN) is aggressively pursuing new contracts with even more of America's manufacturing leaders.
Huge productivity gains from DMTN robotics systems
DMTN 's automated systems can cut manufacturing time per operation from a few minutes to a few seconds. Its flexible systems can reduce retooling time from several weeks to several days. And its customers can pick up productivity savings of between 100 and 300 percent.
Today 90% of the world's robots are in factories, and half of those are employed in the auto industry. Investment in industrial robots was up 19% in 2003, and orders for robots were up another 18% to the highest level ever recorded in the first half of 2004.